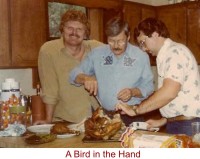 First, a note about Stuffing vs. Dressing. To me the distinction is logical. Dressing becomes stuffing when you stuff it into the bird to cook it. Duh.
Next, a word about ingredients – or lack of them. You'll notice that this recipe does not contain chestnuts, sausage, apples, boiled eggs, raisins, oysters, or any of the other gross, disgusting things people have been known to ruin perfectly good dressing with. However, if you are partial to those things, feel free to add them. Just don't invite me over for Thanksgiving dinner.
Ingredients:
1 Recipe of un-sweet Cornbread
1 Can Biscuits
1 large Onion, chopped
4-5 stalks Celery, chopped
2 Eggs, beaten
1 Can Chicken Broth
2 T. Margarine
1 T. Salt
2 t. Pepper
2 T. Parsley Flakes
1½ T. Poultry Seasoning

THE DAY BEFORE:
Cook your cornbread and bake your biscuits. With your hands, pinch the cornbread and biscuits into thumb-sized pieces and place in a large bowl. Let it sit out, uncovered, for several hours to dry out. (Toss it occasionally, so it dries evenly.) Note: If you plan to stuff your bird, you need to make your dressing the day before. Be sure and chill it before stuffing it in the cavity, as you want both the bird and the stuffing to be the same temperature.
DRESSING:
In a skillet, over medium heat, melt margarine and sauté onions and celery for about 3-4 minutes. (You do NOT want them to be tender; just sauté them long enough to get the "raw" taste out.) Add onions, celery and eggs to your bread mixture. Stir thoroughly. Add broth. Season to taste. You want your dressing to be very moist before you cook it, but not SOUPY. If you are making this recipe for stuffing, don't make it as moist, as the stuffing will absorb the juices of the turkey as it cooks. If you're simply making dressing as a side dish, you can also add some of the drippings from the turkey to moisten it.
Preheat oven to 400 degrees. Pour into a buttered casserole dish and bake uncovered 30-45 minutes or until golden brown.
This recipe makes enough dressing for about 6-8 people. For a larger crowd you will need to double it.