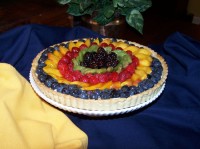 Prepare to be impressed. Why? Because this is NOT a picture out of a magazine. This photo (and the tart) were made by yours truly. And you can produce the same results yourself! Of course this particular recipe isn't the sort of thing you'll want to whip up at the last minute. In fact, if you've got company coming at seven, and it's after six already, and the beds aren't made and you haven't even showered yet, my advice is to crunch a bag of Oreos over a carton of ice cream and call it a day. On the other hand, if you've got time to mess with it, this tart is hugely rewarding because it tastes great and it has a terrific WOW factor! So gather your ingredients, roll up your sleeves and give it a whirl! (And don't forget to take a photo of your own masterpiece!)
FRUIT TART
Pastry:
3 C Flour, sifted
¼ tsp. Salt
1 C Butter, softened
½ C Sugar
2 Eggs, lightly beaten
Sift flour and salt in a bowl and set aside. In mixing bowl on medium speed, beat butter and sugar until light and fluffy. Gradually add beaten egg until just incorporated. Mix in flour and salt until it just forms into a ball. Don't over mix dough.
Flatten dough into a disk and wrap with plastic wrap. Chill several hours or overnight.
Roll out dough to 1/8" thickness, 2 inches larger than the diameter of tart pan. Place in tart pan, being careful not to stretch dough. Gently press dough into corners. Roll rolling pin over top edges to cut away excess. Cover dough in tart pan with plastic wrap and chill for 20-30 minutes.
Preheat oven to 400°. Prick bottom of pastry with fork. Place a round of parchment paper in bottom of pan. Fill with dried beans. Place tart pan on a flat cookie sheet and bake 20 minutes. Remove beans and parchment, and continue baking another 5 minutes. Cool.
Filling:
8 oz. Cream Cheese, softened
½ C Sour Cream
½ C Powdered Sugar, sifted
1 tsp. Vanilla
Combine in mixer until smooth. Cover and chill until ready to assemble.
Almond Layer:
Toast 1 C Almonds at 350° for five minutes. When cool, grind in food processor with ¼ C Sugar.
Suggested Fruits:
3 large Peaches
1 carton Blueberries
4 large or 6 small Purple Plums
3 Kiwi, peeled and sliced
1 carton Raspberries
1 carton Blackberries
Notes on Fruit:
Summer is the best time of year to make this dessert because store bought fruit is generally riper and juicier. If peaches, plums, or apricots are too ripe and mushy, don't poach them. If they have a slightly firmer texture, they can be poached. Also, peeling these fruits is optional, depending upon personal preference.
Poaching Liquid:
In large flat skillet, bring to a boil 4 C water, ½ C Sugar, 1 tsp. Vanilla (or ½ Vanilla Bean), Zest and Juice of one Lemon. Reduce heat to simmer. To poach, cut fruit in half and remove pit. Place cut side down in simmering liquid. Cover with cheesecloth and simmer for 2-3 minutes. Remove to a clean towel to cool and drain.
Glaze:
½ Jar Apricot Preserves
2-3 TB Poaching Liquid or water
Warm preserves and liquid in saucepan over medium-low heat. Strain into a bowl and allow to come to room temperature.
Assembly:
Spread filling mixture evenly in the baked, cooled crust. Generously sprinkle a layer of the almond mixture over the filling. Arrange fruits: The object is to alternate colors. Begin with a double outer layer of blueberries. Slice peaches and lay them in a centrifugal circle. Place a double row of raspberries in next. Do one layer of plum slices. Place a circle of kiwi in next. Fill in the center with blackberries.
Gently brush apricot glaze over fruit, being careful not to get too much. Place tart in refrigerator for at least two hours before serving. Remove outer band of tart pan. Carefully slide tart off of bottom pan onto pedestal cake stand.
Admire.