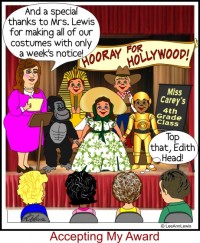 Here's a question that'll really date you if you know the answer: Who was Edith Head? In case you've forgotten, or never heard of her, for almost sixty years this odd little lady with her signature straight-cut bangs and horn-rimmed spectacles was Hollywood's premiere costume designer who created everything from a sarong for Dorothy Lamour to a suit of armor for Danny Kaye (two more names sure to date you if you know them!) Nobody ever made more costumes than Edith Head. Until I came along.
Of course I never intentionally set out to be such a prolific costume maker. After all, I was just a mom, and to me being a mom meant that I was required to bake cookies, read Dr. Seuss, chaperone field trips to the art museum, and breastfeed (although probably not in that order). I also understood that I was required to make Halloween costumes.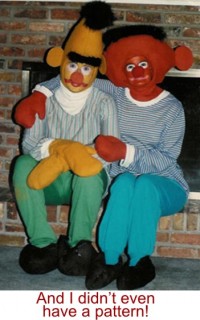 What I didn't realize, at least at first, was how elaborate those costumes were supposed to be. Call me naïve, but I figured all I had to do was iron a couple of patches on the knees of some blue jeans, tie a bandana stuffed with newspaper to the end of a stick, and voila! You've got a hobo outfit – which would have been perfect, except that my son didn't want to be a hobo. He wanted to be a stegosaurus. (Who did he think I was...Edith Head?) So I spent the next three days at the sewing machine stitching a four foot long, spiked tail to the backside of his gray sweat pants. But I really didn't mind. After all, this was Halloween. It was the only day of the whole year that called for a costume.
Or so I thought. Then one day, in the middle of June, my five-year-old daughter received an invitation to come to a birthday party dressed as a bride. "Oh, Mommy!" she cried, "I want to be the most beautiful bride of all!" (Who did she think I was...Edith Head?) So I found an old white petticoat at a garage sale, bought some cheap white lace, and created a wedding gown fit for the most beautiful bride of all.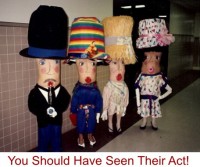 Next came the school plays. Some were easy, like the shepherd's outfit for the preschool Christmas pageant, (note to young moms: never throw out your old bathrobe!) Others were a bit trickier, like the Statue of Liberty or my personal favorite, the Whistling Belly Button. But the one that really threw me into a tizzy was when my third grade son informed me had to give an oral report (the next day!) dressed as Cabeza deVaca. (Who did he think I was…Edith Head?) A note from his teacher suggested, "Just use stuff from around the house". Sounds easy enough, right? I mean, Edith did that sort of thing all the time. In fact, l read that she once collected hundreds of peacock feathers from the grounds of Cecil B. DeMille's ranch and pasted them together to make a gown for Hedy Lamarr. So following her example I fashioned a Spanish conquistador headpiece out of a batting helmet, pulled a vest and a pair of black boots from the back of my closet, tied a scarf across Jason's chest, sent my dashing explorer off to conquer his report, and counted the days until my kids got out of elementary school.
The only problem was, when they got to high school, there was a THEME for every event they went to! There were fifty's sock hops and Roaring Twenties flapper dances. There were Hawaiian luaus and Mexican fiestas and Harley Davidson rallies and seventies discos. And every single party required a costume. (Who did they think I was...Edith Head?)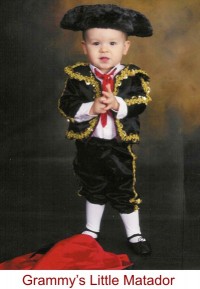 As a result of all this prolific creativity, over the years I have amassed a costume collection that rivals any studio wardrobe department. Need an Indian headdress, or a poodle skirt (size 0!), or an authentic grass skirt? How about a Japanese kimono, or maybe a horse's front and rear end, or a pair of Bert and Ernie heads? Just call me for a fitting. And to top it all off, I'm now outfitting my grandchildren for Halloween too, adding to my list of original creations a tiny matador's traje de luces, complete with hand-stitched sequins! (Remind me to look up the Spanish word for "demented"!)
According to her biography, Edith Head designed costumes for more than 400 Hollywood films, garnered eight Academy Awards and was nominated for thirty-seven more. Who did she think she was…Lee Ann Lewis?